Michael Foster
Owner and President of All Seasons Pest Control
Helping You Live Pest-free since 1989
Education
Attended Midlakes High School
Graduated from St. John Fisher College in Rochester in 2010 with a bachelor's in sociology
Graduated Canisius College in Buffalo for a Master's in Counseling
Certified Categories : 3A, 7A, 7F, 7C,
Certified Wildlife Control Expert
All Seasons Pest Control in the Finger Lakes region was originally founded by Michael's father, Thomas Foster Jr., in 1989.
Thomas made it his mission to provide quality, affordable and effective pest control services throughout the Finger Lakes, NY area for over 30 years before retiring.
Michael helped out Thomas with running the business after an unexpected family death when Michael was a college sophomore. When Thomas passed away in 2016, Michael took over the business as president and owner. He continues to provide the same exceptional service his father did while incorporating state-of-the-art pest control tools and technology to further help residents and businesses.
Originally from Phelps, Michael currently lives in Geneva with his newly born daughter Amelia, wife Ashley, and their black lab mix, Scout. In addition to working as a school teacher in the Waterloo Central School District, Ashley also helps out with the family business, especially during the summer months.
Michael loves horse racing and owns his own race horses. He travels to the East coast to watch them compete.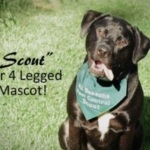 Scout is the company mascot, and adopted black lab mix rescue. You may see Scout riding around in the company vehicles from time to time. Unlike the large, corporate pest control companies, All Seasons Pest Control is owned and operated by local people who are heavily invested in the community. It is more than a job to them- it's a way of life. They consider their clients as friends and family. They are here to stay and look forward many years of carrying on the family tradition of providing the highest level of pest control expertise and customer service in the industry!
Get Your

Free Estimate

Now