It's not unusual to deal with an ant infestation, and it doesn't necessarily mean that your home or place of business is unclean. Sometimes merely the location or structure of your home or workplace is enough to make it prone to infestations. All Seasons Pest Control can help rid your home of these unwanted visitors in Geneva, NY and the Finger Lakes Region!
How to Tell If You Have an

Ant Infestation



The most obvious sign of ant infestation is of course, the presence of ants in your home. Ant infestations can quickly grow simply due to their nature. When ants leave their nest in search of food, they will walk randomly until they seek their next meal leaving behind them a pheromone infused trail. When an ant finally finds its food, it will pick it up and follow its scent trail back to the nest. Other ants can pick up on these pheromone trails and hence, you can develop an infestation. Whether you see a few or many ants in your house, especially in the kitchen or other areas where you prepare/store food, contact All Seasons Pest Control right away. A few other signs that you might have a major ant issue include:
Some nests, like small piles of dirt outside, are easy to spot, while others might be inside the walls.
When you're watching multiple ants follow the same path in and out, it's usually a sign that more are to follow.
Carpenter ants, which can cause thousands of dollars in structural damage to a building, burrow through wet, rotten wood to get inside a home. Check near broken gutters or where sitting water might accumulate next to the structure.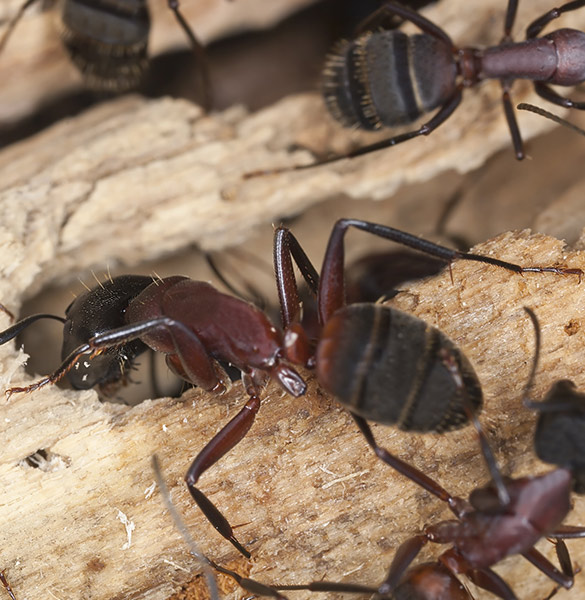 Stop the Infestation Fast Contact Us
Stop the Infestation Fast Contact Us
Dealing With an

Ant Infestation
While there are sprays and other products available to kill ants, they can be dangerous and aren't as effective as long-term solutions. We provide a free 58 Point Pest Survey and Analysis in which our professional technicians will determine the source of the ants and the severity of the infestation. We'll create a customized treatment plan based on our findings. All of our services and treatments are environmentally friendly and safe for humans and pets, so we'll responsibly resolve the infestation and make professional recommendations for preventing additional infestations in the future.